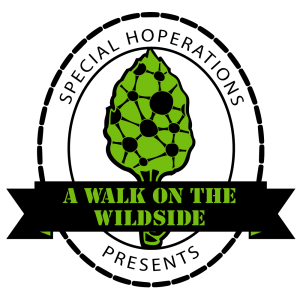 Registration window: Apr 1, 2017 – May 19, 2017
Register your entries and sign up to judge!
Entries due by May 26, 2017
Judging Date: June 3, 2017
Volunteer to steward and judge here!
Purchase Walk on the Wildside Dinner Tickets Here!
Walk On The Wildside
A Walk on the Wildside is an AHA/BJCP sanctioned homebrew competition for sours and Brettanomyces beers (mead and ciders, too). The competition will use the World Beer Cup styles. All those sour beers that don't fit the BJCP, no problem. That Brettanomyces beer, it has a home here.
Florida Weisse Challenge
This is a Special Hoperations category made up of fruited Berliners (a.k.a. Florida Weisse). Based on the traditional German Berliner Weisse beer, the Florida Weisse is brewed with lots of fruit–particularly fresh fruit–rather than just simply having fruited syrup added to the glass when the beer is poured. The sweetness of the fruit should balance the acidity of the beer without becoming fruit juice.
WOTW 2017 Style Guidelines for complete description: WOTW Guidelines 2017:
Eligible Styles:
WBC 12. Specialty Beer – Sours Only (Other sour ales, lagers, meads and ciders that have used wild yeast and/or souring bacteria)
WBC 18C. Subcategory: Wild Beer
WBC 23A. American-Style Sour Ale
WBC 23B. Fruited American-Style Sour Ale
WBC 24A. Brett Beer
WBC 24B. Mixed Culture Brett Beer
WBC 28A. Wood- and Barrel-Aged Sour Beer
WBC 28B. Fruited Wood- and Barrel-Aged Sour Beer
WBC 51A. German-Style Sour Ale Berliner-Style Weisse
WBC 51B.German Style Sour: Leipzig-Style Gose
WBC 51C.German Style Sour: Contemporary Gose
WBC 59A. Belgian-Style Sour Ale: Belgian-Style Lambic
WBC 59B. Belgian-Style Sour Ale: Belgian-Style Gueuze Lambic
WBC 59C. Belgian-Style Sour Ale: Belgian-Style Fruit Lambic
WBC 59D. Belgian-Style Sour Ale: Other Belgian-Style Sour Ale
WBC 60. Belgian-Style Flanders Oud Bruin or Oud Red Ale
For World Beer Cup Style Guidelines click HERE.
All beer entries must be in 12 oz to 750 ml glass bottles. Raised NO DEPOSIT, or manufacturing codes are acceptable. Common brand raised lettering (e.g. Sam Adams or Bass) are acceptable. Beers with Grolsch-type swing tops are acceptable. Also 22 ounce bombers and 750 ml bottles are permitted. Corked and caged bottles are acceptable. Crown capped and waxed bottles are also acceptable. We understand that extra time and care went into making these beers and that you may have taken extra measures to ensure the longevity of these beers. We accept the extra work that will be required to care for and store these different size bottles because we know the care that went into making and packaging these beers. Beers will be poured blind so that bottle identification is not possible.
An entry consists of 2 bottles, despite the size of the bottles being submitted. Each entry will cost $7. Paper entries will not be accepted. All entries must be entered via the online entry system. Make checks or money orders payable to Special Hoperations. Please place your checks in an envelope and attach to one of your entries with a rubber band. The online web entry can be be accessed here: (Opens May 1st). Online payment via Paypal can also be accepted via the online entry form. There is a cap of 200 entries in order to ensure that we carefully judge each entry to the best of our ability.
The on-line entry system will create a bottle identification page for each entry. Attach the completed bottle I.D. form to each bottle neck with a rubber band. Bottle I.D. is easily lost when attached to body, please rubber band your I.D. to the neck of the bottle. ENTRIES WILL ONLY BE ACCEPTED IF RUBBER BANDS ARE USED TO ATTACH BOTTLE IDs. NO TAPE OR GLUE WILL BE ACCEPTED.
Deadline for entry delivery is May 26, 2017. Entry window will open Apr 1, 2017. Judging and awards banquet will be June 3rd. There will be a sour beer and food pairing dinner for the awards ceremony – tickets will need to be purchased in advance (TBA).
Drop-off and Mail Entries to:
Southern Brewing and Winemaking
4500 North Nebraska Ave, Tampa, FL 33603
(813) 238-7800
Contact wotw@specialhoperations.org with any questions.
The following organizations are SPONSORS of Walk on the Wildside. We would like to thank them for making it happen.